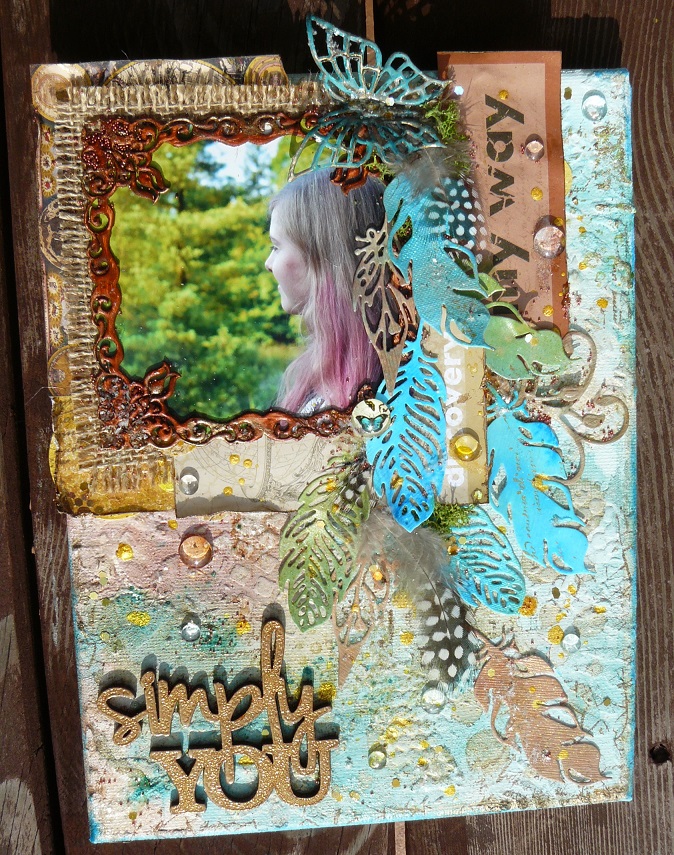 Simply You – mój projekt mix-mediowy na płótnie bierze udział w wyzwaniu na blogu Lindy's Stamp Gang, dlatego też ten wpis jest wyjątkowo dwujęzyczny. (A może to dobry moment, żeby zacząć pisać w dwóch wersjach językowych?)
My today's project – Simply You – is a mix-media canvas created for the challenge on the Lindy's Stamp Gang blog. Since this is my first project presented for an international challenge, I assumed that my blog entry should be bilingual this time. (Or pehaps I should keep it in two languages from now on?)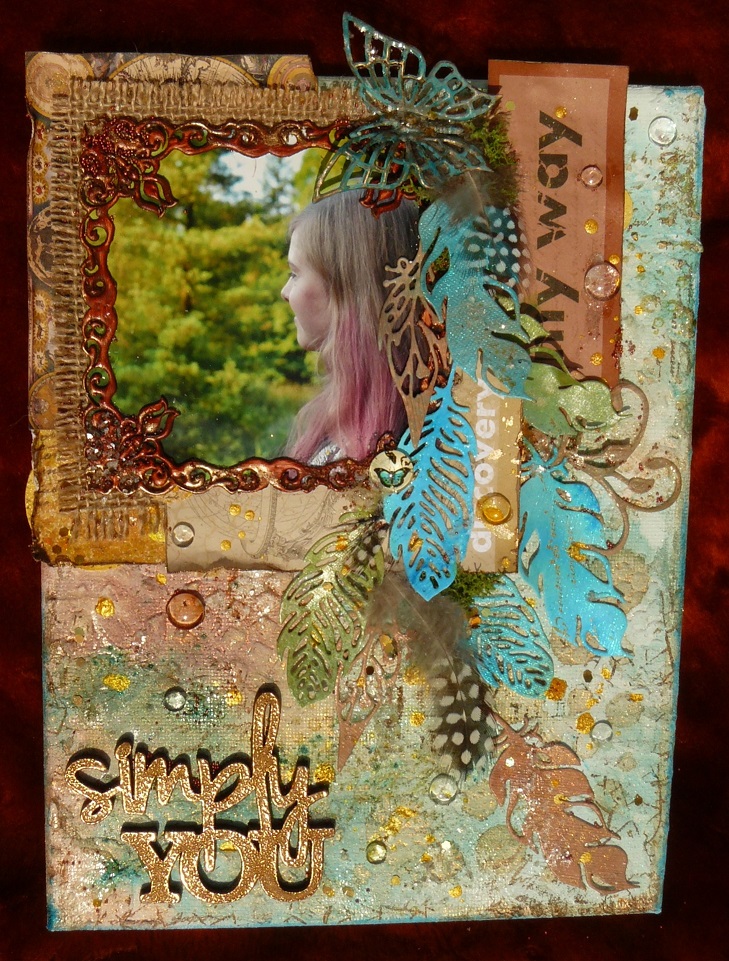 Tło projektu wykonałam przy pomocy pasty strukturalnej. Kierując się kolorystyką wyzwania, wykorzystałam pigmenty w proszku i mgiełki, również z wykorzystaniem maski (kółka).
The background was made with a modeling paste, powdered pigments and mists, which were also sprayed through the mask (circles).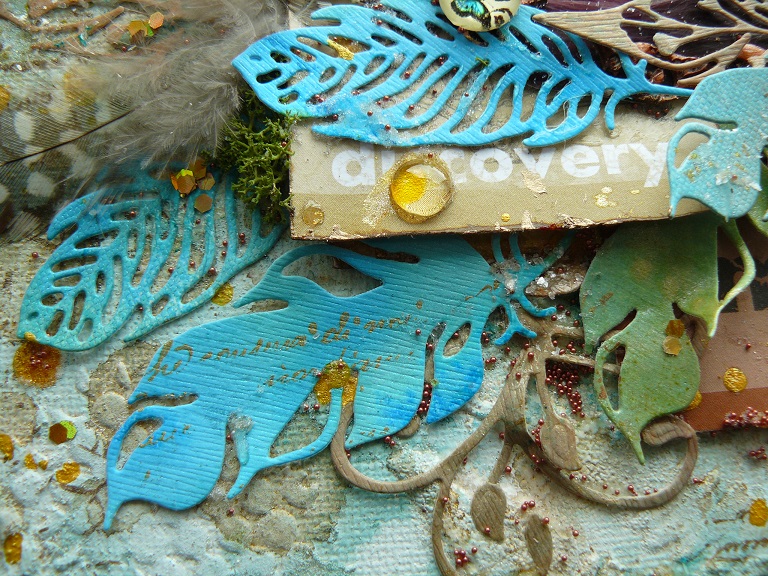 Najprzyjemniejszą częścią pracy było tworzenie arkusza, z którego wycięłam potem pióra. Wykorzystując różne mgiełki na papierze wizytówkowym udało mi się uzyskać kolory w odcieniach rdzy i patyny. Obok piór wyciętych z papieru, w pióropuszu znalazły się również pióra naturalne.
I had the greatest fun preparing a colourful sheet, which I used to die cut the feathers. I simply used various colours of mists on heavy cardstock to get beautiful rust and patina shades. Apart from paper die-cuts, the plume also features natural feathers.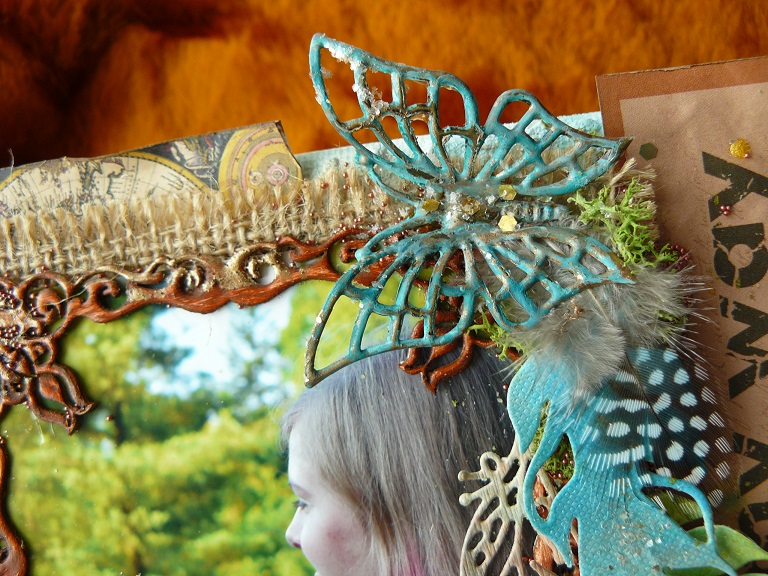 Warstwy błękitnej i miętowej farby akrylowej na metalowym motylu mają imitować patynę.
The metal butterfly was covered with different shades of blue and mint acrylic paints, to immitate the patina effect.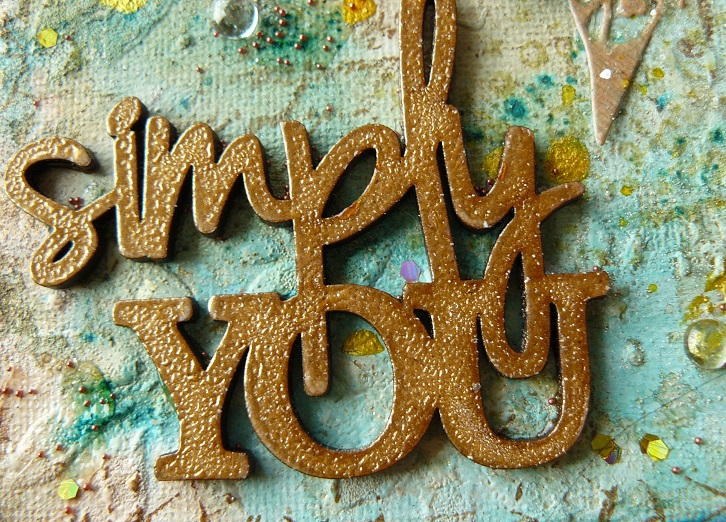 Poza odbitkami stempli (spękania i tekst), tło zdobią większe i mniejsze dodatki – mikrokulki, złoty brokat hologramowy i szklane kaboszony w różnych rozmiarach.
The background was also stamped with some rubber stamps (crackle and text) and decorated with microspheres, gold hologram glitter and glass cabochones in various sizes.
Pracę zgłaszam na wyzwanie:
The project takes part in the Lindy's September Challenge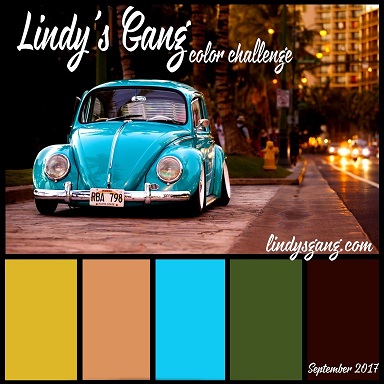 Użyłam następujących produktów Lindy's Stamp Gang:
I used the following Lindy's Stamp Gang products:
Sprays: Delphinium Turquoise
and embossing powder: Caesar's Gold