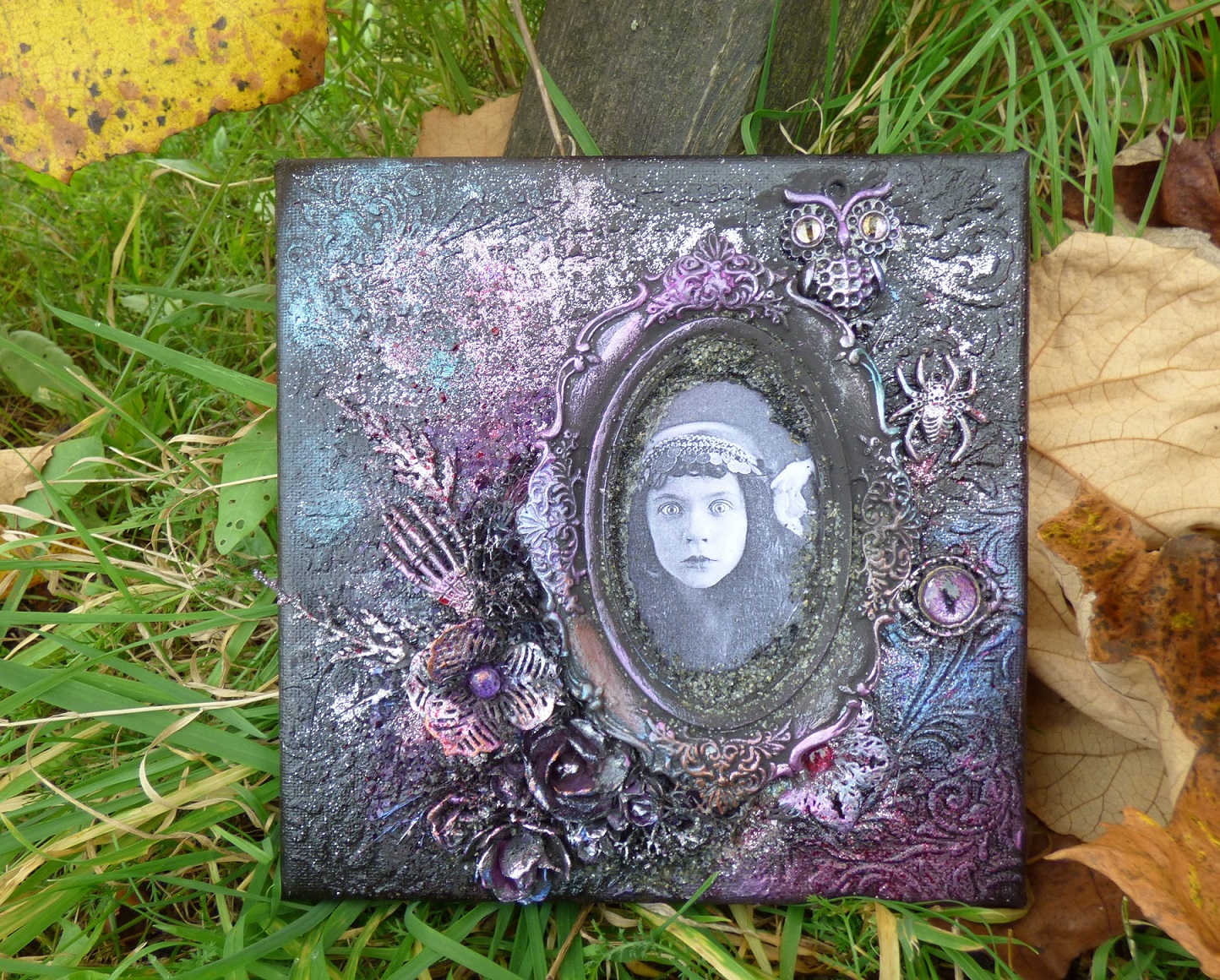 Dzisiejsza "straszna" praca powstała na październikowe wyzwanie na blogu 13arts. Ponieważ tematem wyzwania są straszydła i straszności, z portretu spogląda na nas przerażona dziewczynka.
Today's "horrifying" project takes part in the Spooky October challenge at the 13arts blog. And since the spookiness is the main topic of the challenge, a spooky girl in an cobwebbed and mould covered picture is staring at you.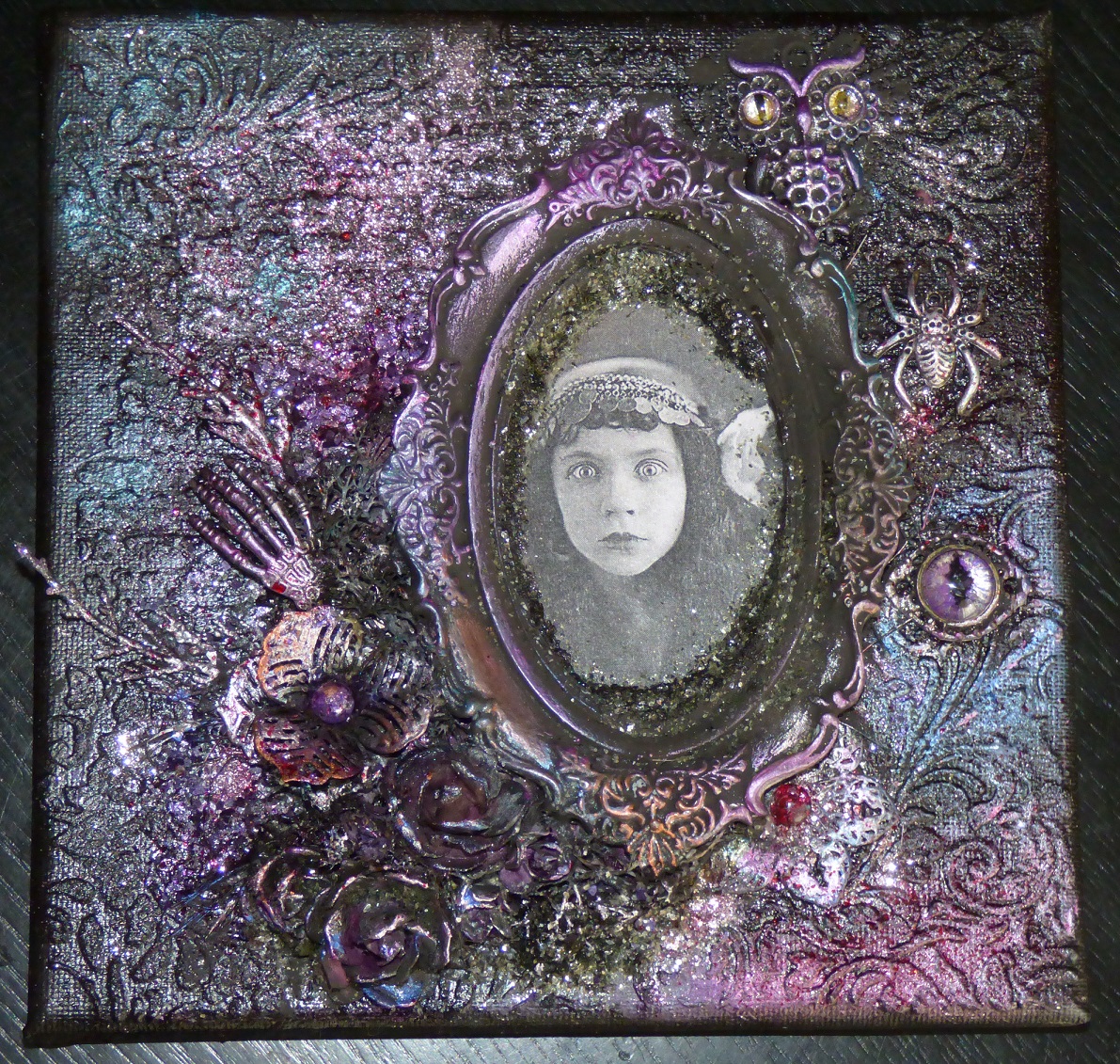 Mix-mediowy obrazek powstał na płótnie, na które nałożyłam pastę strukturalną przez maskę, a następnie pokryłam czarnym gesso. Różowy i fioletowy odcień tła to efekt zastosowania tuszu akrylowego z brokatem i pasty woskowej.
The background of this mix-media canvas was created with a modelling paste through the stencil and covered with black gesso. I added colours to the picture by using 13arts glitter inks (violet and pink) and the wax paste.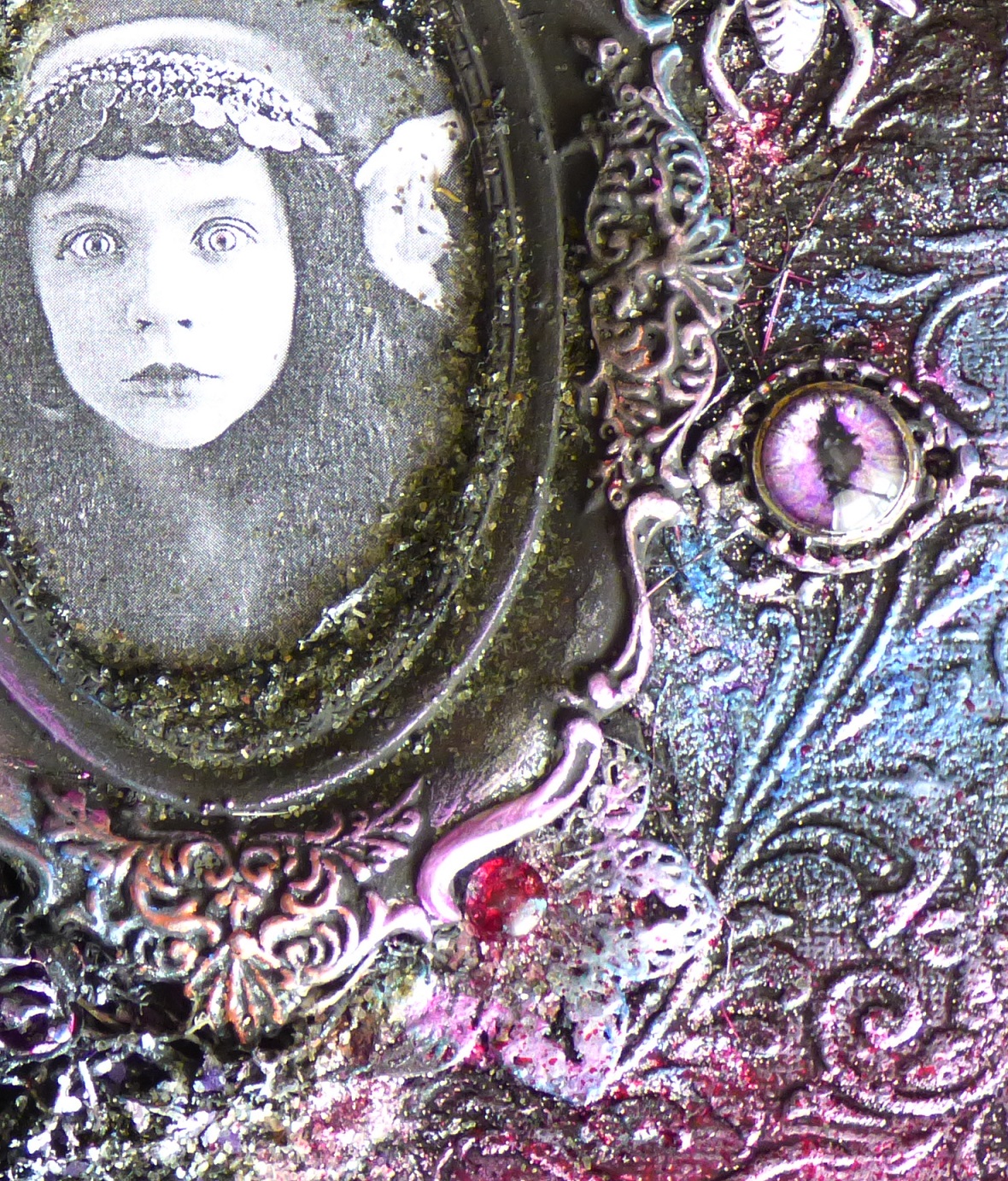 Dużo frajdy sprawiło mi zrobienie "smoczego oka", na podstawie kursu z YouTube (z użyciem lakieru do paznokci). Niestety, ponieważ oko jest szklane, na żadnym ze zdjęć nie udało mi się uchwycić jego rzeczywistego wyglądu. W środku metalowych kwiatów przykleiłam małe szklane kaboszony, pod które nałożyłam po kropelce tuszu brokatowego (różowego i fioletowego).
I created the "dragon eye" painting the back side of a glass cabochon with nail polish (following a YouTube tutorial). Small glass cabochons are also glued in the centre of metal flowers, over a drop of ink.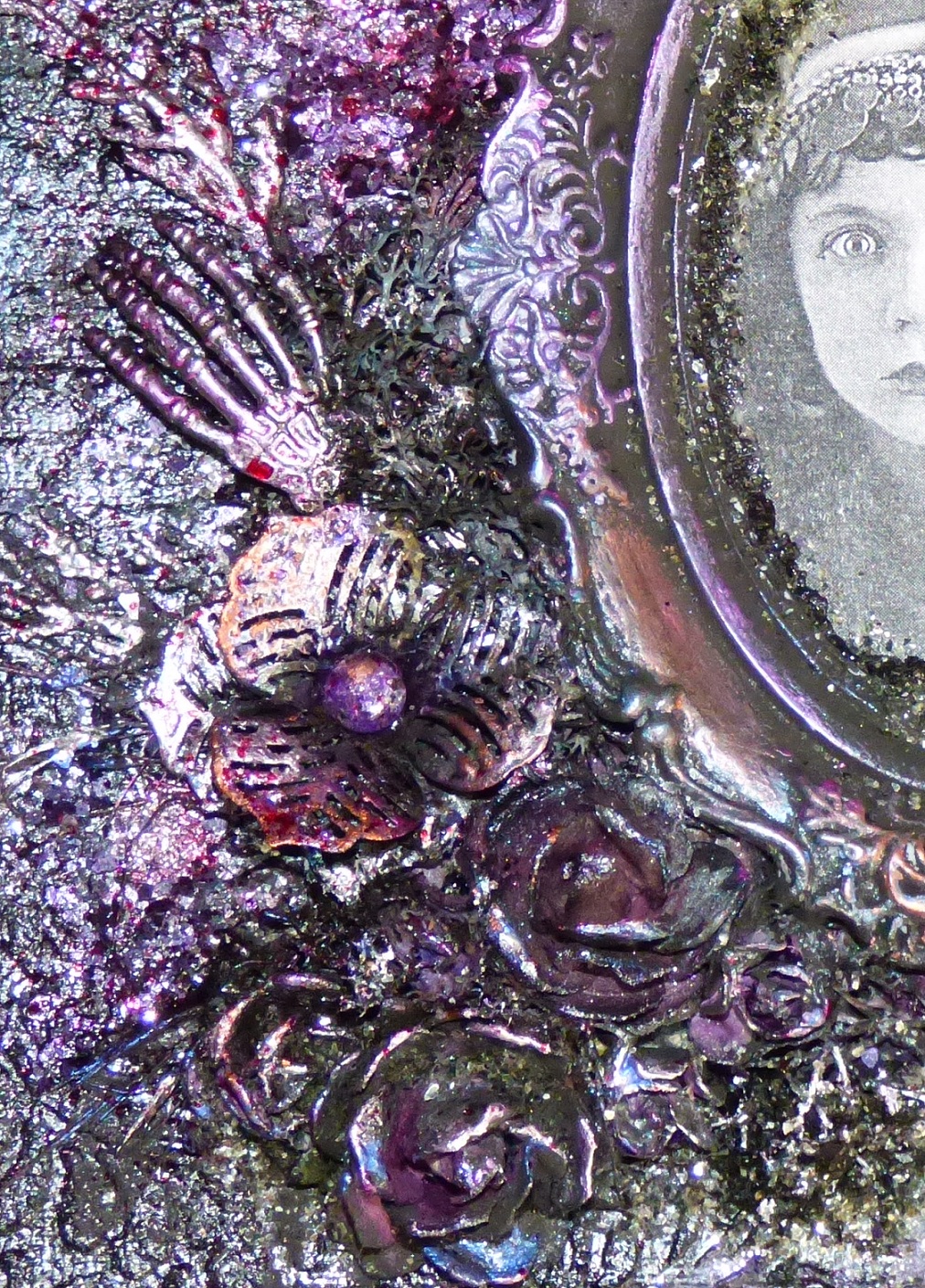 Oprócz oka, na pracy znajdują się jeszcze inne obrzydliwości, takie jak pająk, straszna sowa (ze strasznymi oczami), koścista ręka i pajęczyno-pleśń wokół zdjęcia dziewczynki ze strasznymi oczami. Poziom grozy mają podnieść rozbryzgi różowego tuszu.
There are some more creepy details on the canvas, e.g. an ink/blood-splattered spider or skeleton hand. Scary enough?
Boicie się?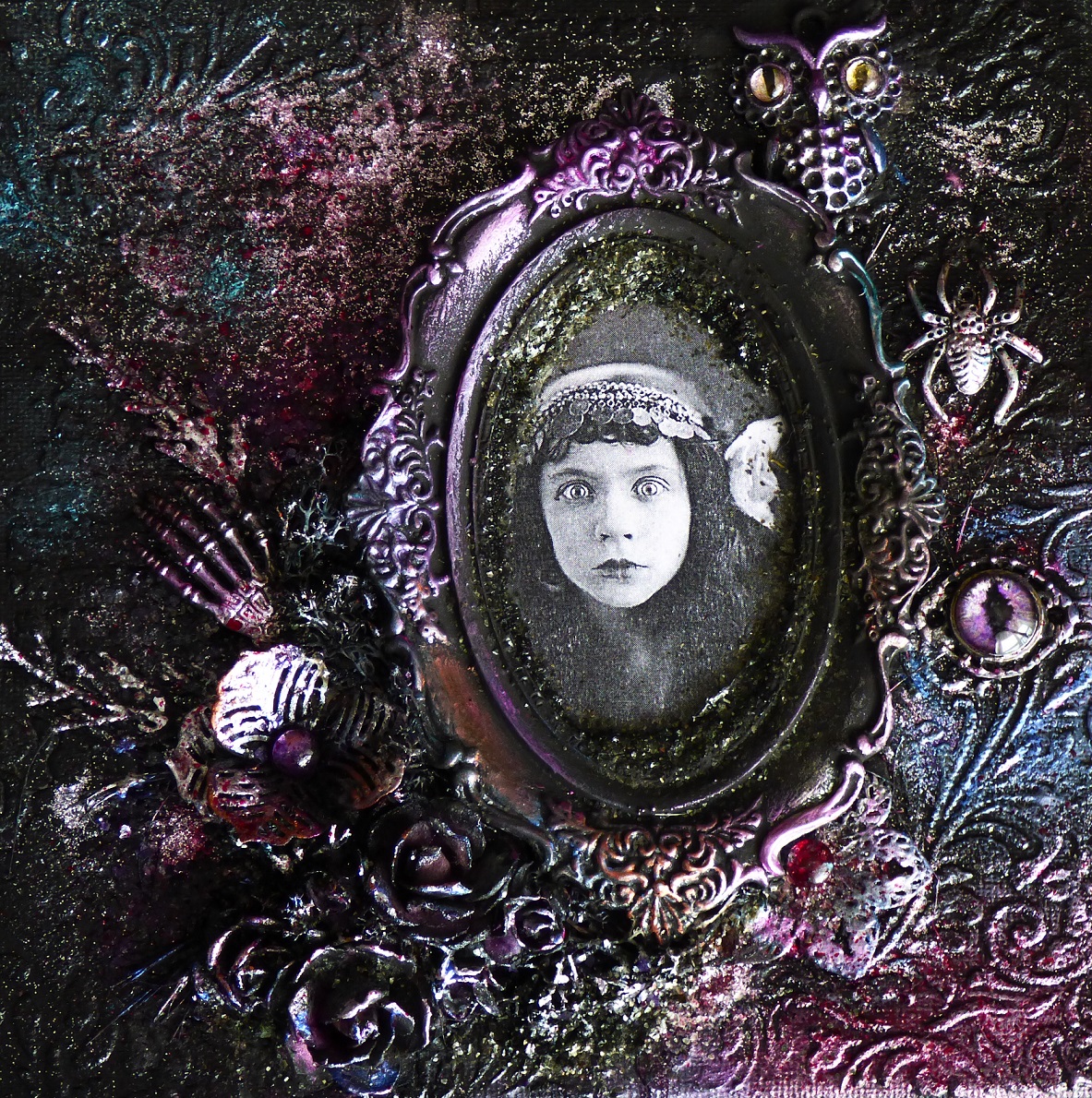 Pracę zgłaszam na wyzwanie: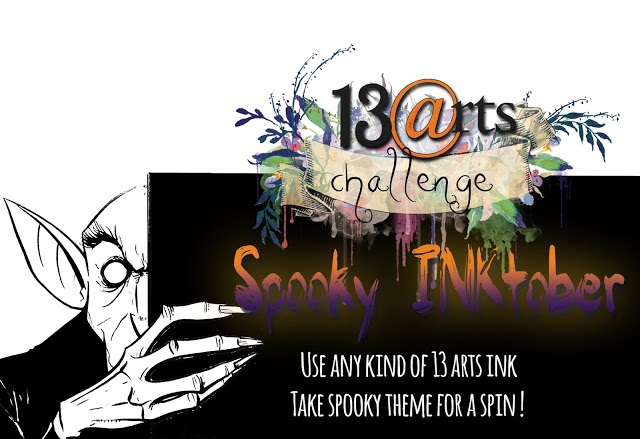 Użyte produkty 13arts: tusze akrylowe SPLASH! Gllitter Violet i Pink, czarne gesso, czarna drobna mika.